Location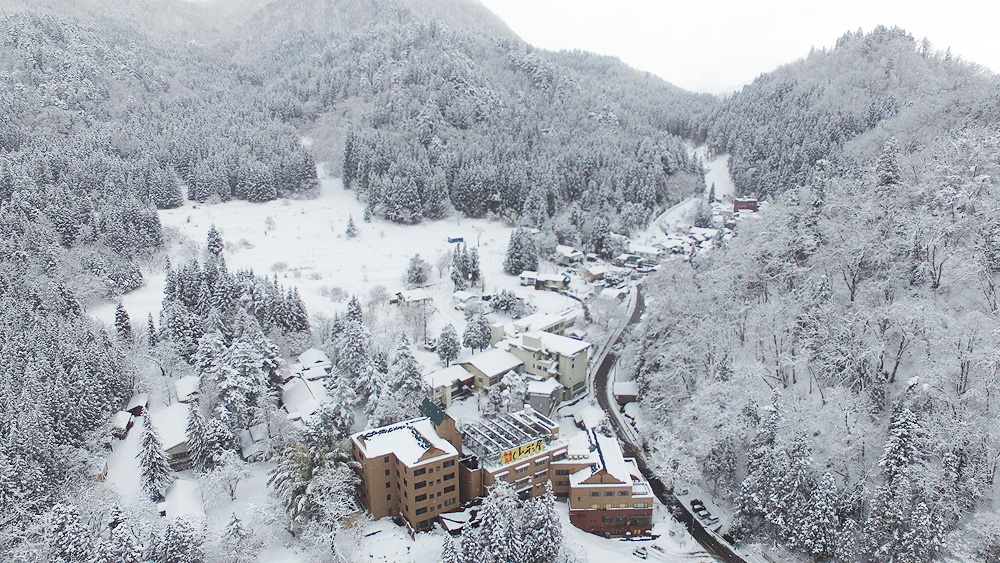 Atsushio Onsen Hot Spring Town is located in north of Tokyo where you can access in 3 hours by train and 4 hours from Hokkaido with trains and a flight. Atsushio Onsen normally is covered by plenty of snow during winter. There are various ski resorts around the area and is also known as a place of origin for delicious Kitakata Ramen Noodles. From Atsushio Onsen, it takes only 15 minutes by car to the center of Kitakata city where you find many Ramen Restaurants.
Experiencing Japanese Culture In Onsen Hot Spring Ryokan
Atsushio Onsen is an area where you can experience authentic Japanese Onsen town since it has 650 years of history.  You can enjoy original Japanese cuisine in each Onsen Ryokan, which can be described as "Japanese Auberge."
One of the best and unique parts of staying at Roykan is to relax yourself in natural Onsen hot spring and then to sleep in Futon mattresses on Tatami floor.  It is also relaxing to stay in the quiet Ryokan room all the day without going outside. For more information and details about Onsen Ryokan Stay, please check out our article "Make your ski holidays exclusive by staying Rokans in Atsushio Onsen."
Ideal Location For Experiencing Skiing and Japanese Culture At The Same Time
There are more than 7 different ski resorts around Astushio Onsen including Hoshino Resorts Alts Bandai with 25 different slopes and Grandeco Snow Resort with plenty of snow lasting until April. There is also Hoshino Resorts Nekoma that has one of the biggest quantities and the best quality of snow in the area, which is accessible with a rented car in 60 min from Atsuhio Onsen.
There is a city called Kitakata that is 15 minutes ride from Atsushio Onsen Hot Spring. Kitakata is known for the origin of Kitakata Ramen. There are about 120 Ramen restaurants in the area and there are people visiting from all over Japan craving for tasty ramen.
Each Ryokan could give you recommendation for restaurants since there are various kinds of Ramen besides basic pork bone soup with soy sauce flavor. You can also enjoy Izakaya bars at night that offer Japanese bar foods like Yakitori, Sashimi, Sushi, and Sake made in Kitakata and nearby areas.

>>Kitakata experience report
Various Services for Skiers
There are waxing spaces in each Ryokan in Atsushio Onsen where you can maintain your skis and snowboards. There are also unique services and activities like the following.
Free use of sauna with charcoal called Charcoal Barden.
Painting on traditional Aizu toy "Akabeko" that is known as a charm against evils.
Make the most of your ski trip to Japan by experiencing Japanese culture and lifestyle along with amazing snow.
Reserving your stay in Atsushio Onsen Hot Spring